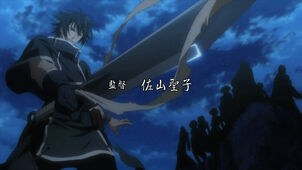 Seirei Hirai ( Opened Spirit ) is the first opening song for Brave10 anime series. It is sung by Ono Daisuke, Saizo's seiyu & Kakihara Tetsuya.
"Seirei Hirai"

Surely, in pursuit of those passionate dreams

we'll find ourselves wound in the coils of time.

As we reflect upon our memories

our spirits grow stronger.

We'll lay our hands on further strength

and gaze the future in the eye.

Our spirits must be at their peak now.

Raise your fists in the air!

Spirits come flying at surpassing speed.

My body

burns with passion, dying to be a hero.

I lock away my agitation.

We are aiming to be

flawless heroes.
"Seirei Hirai"
Kitto atsui yume wo otte

toki ni makarehajimeru

sotto kioko tadoru hazu da

omoitsunotte

Motto tsuyoi chikara motte

toki no yukue misueru

ima kibun agaru haza da

kobushi furiage

karamu jinsoku seirei hirai

kono mi ga

kanpun kouki yuushi eraku

koufun seiatsu kindan no koro

warera ga kanzen muketsu

yuushi mezasu


Ad blocker interference detected!
Wikia is a free-to-use site that makes money from advertising. We have a modified experience for viewers using ad blockers

Wikia is not accessible if you've made further modifications. Remove the custom ad blocker rule(s) and the page will load as expected.