Brave 10 Stage (舞台BRAVE10) is a 2.5D stage adaptations of Brave 10 (ブレイブ・テン) anime & manga.
戦国時代 ― 関ヶ原の戦いが始まるおよそ1年前のこと。
己の居場所を探していた伊賀の忍者・霧隠才蔵は、徳川家康に出雲の社を襲撃され逃げてきた巫女・伊佐那海を、刺客から守った。伊佐那海は、信州の真田幸村を頼ろうとしているところだった。
家康が出雲の社を襲撃し、手に入れようとしたモノとは不思議な力を持つといわれている奇魂(くしみたま)。
一方の幸村は、乱世の切り札となる十人の同志たち「真田十勇士」を集めようとしていた。そして、伊佐那海に付き添い、幸村のもとを訪れた才蔵も、その一人となる。
やがて彼らは、伊佐那海に秘められたある秘密を知ることとなり、伊佐那海を狙う者たちと戦うのだった。
繰り広げられる死闘の中で、伊佐那海に秘められた不思議な力が発動する!
幸村が「真田十勇士」を集めた真の目的とは、いったい何だったのか ― 。
Performances
Edit
Overview
Edit
Nakamura Yuichi as Kirigakure Saizo
Isobe Karin as Isanami
Imari Yu as Sanada Yukimura
Miyagi Koudai as Unno Rokurou
Mamoru Asana as Anastasia
Sakurai Keito as Yuri Kamanosuke
Kitagawa Naoya as Sarutobi Sasuke
Washio Shuuto as Kakei Juuzou
Sho Arai as Miyoshi Sekai Nyuudou
Shinohara Ryu as Benmaru
Kohatsu Allen as Nezu Jinpachi
Tatemichi Riona as Ishikawa Goemon
Kosaka Ryotaro as Date Masamune
Kousuke Asuma as Hattori Hanzo
Original Work: Shimotsuki Kairi
Director: Yoriko Jun (ヨリコ ジュン)
Music: Dingleberry Orchestra
Planning Cooperation: KADOKAWA
June 28 - July 2, 2017 Tokyo Zenrosai Hall/Space Zero (Tokyo)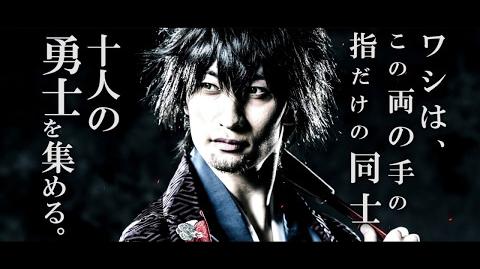 External Links
Edit
Ad blocker interference detected!
Wikia is a free-to-use site that makes money from advertising. We have a modified experience for viewers using ad blockers

Wikia is not accessible if you've made further modifications. Remove the custom ad blocker rule(s) and the page will load as expected.